What Is Dustless Blasting
Posted by:
Admin
Tags:
Dustless blasting, Dustless blasting benefits, Dust supression
Posted date:
06-05-2021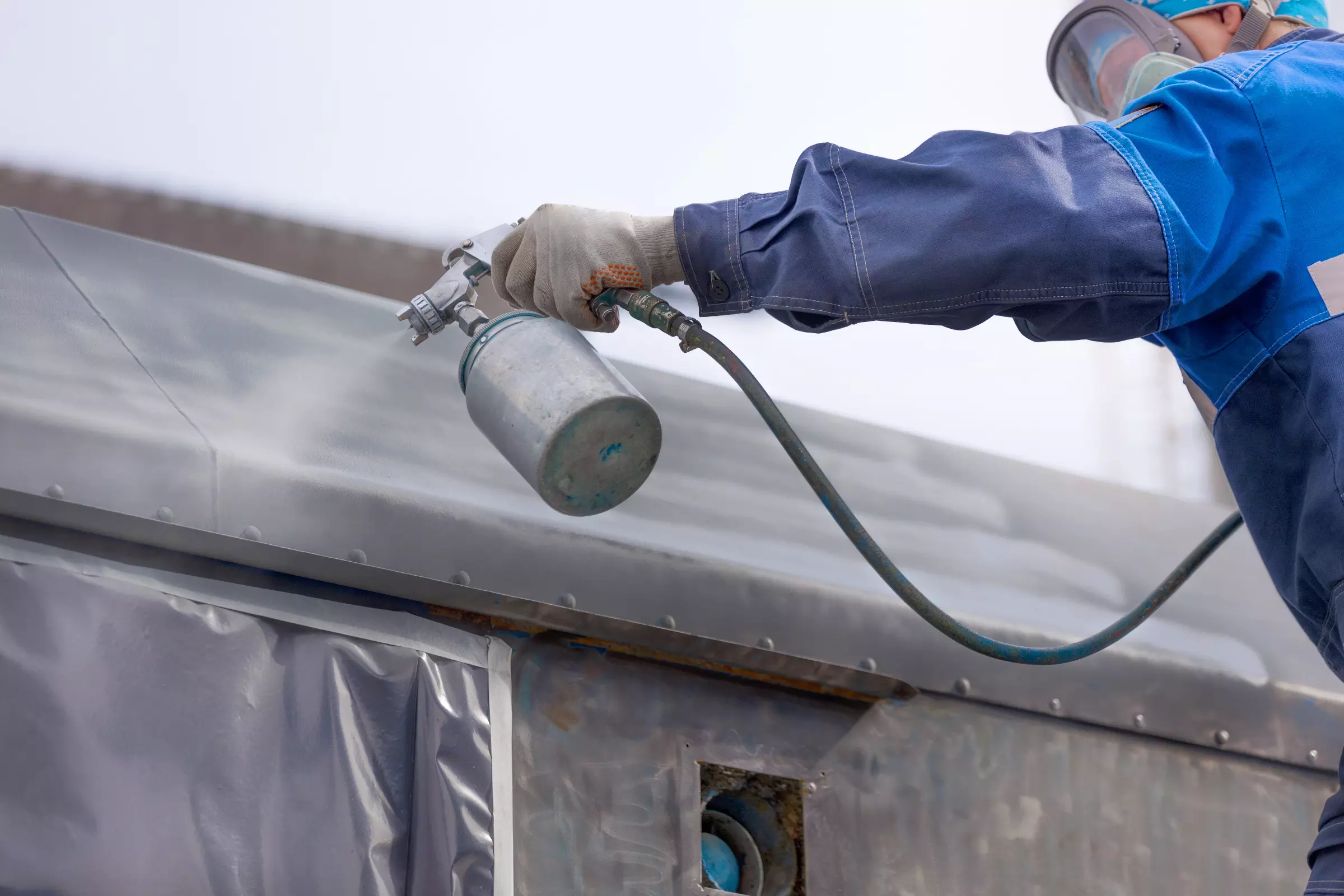 If you have been considering shot blast cleaning, you may want to know more about: What is dustless blasting? This process is used for cleaning various surfaces of paint or other coating. Find out more about what dustless blasting is used for and what are its benefits.
What Is Dustless Blasting
Dustless Blasting is a paint stripping and cleaning system that you may use to remove any coating from any surface. Dustless blasting allows you to do so without the presence of harmful dust clouds.
Dustless Blasters work by mixing abrasive and water inside the blast tank. When the abrasive sinks in water, it helps to increase the mass and overall energy level that the machines put out. All the while, dust is effectively suppressed.
The primary use of the Dustless Blasting or wet blasting method is to rid any failed paint or rusting metal and even clean dirty vehicle surfaces. Customers can remove what's left of old paint coatings with the dustless blasting process in an environmentally friendly way.
The method is quick, effective and cost-efficient, allowing for smooth, clean surfaces ready for re-sanding, painting or glossing. Your vehicle will be brand new in no time.
There is such an extensive demand for this service, creating various future opportunities for new manufacturer's, businesses and industries to invest in these methods or expand their existing services.

The suppressing of the plume of dust using a Dustless Blaster allows you to work pretty much everywhere with minimal confinement. Suppose if you strip a car on a large site such as a football stadium; if you were to try dry blasting or sandblast the vehicle, the whole stadium would likely fill up with the airborne sand, vapour or dust particles.
Soda blasting is a less abrasive blasting process than sandblasting but is more suitable for lighter blasting situations. However, if you chose Dustless Blasting, the particles from it are likely to only spread around a smaller vicinity. It may only cover a tiny section of the pitch, about the size of the centre logo, instead of the whole grounds.
Whilst this is the case, the process isn't magic, and the blast media that goes into the machine does not disappear. At some point, it must come out. However, compared to sandblasting, the overall process is still dustless, as it creates fewer airborne particles.
Benefits of dustless blasting
Old vehicles that have faced plenty of chipping paint scratches or cars that garner a great deal of dirt are often in need of services like dustless blasting. The main benefit of dustless blasting is that it can suppress dust particles and reduce the levels of airborne media that could be damaging to the environment and everyone around us.
Fused water and abrasion inside of a blast tank are what creates the dustless blasting method. During blasting, the water encompasses the abrasive and the removed coating. The trapped abrasive falls to the ground instead of becoming airborne. In doing so, this prevents a large majority of the particles from spreading around the area. Surroundings are clean, free of mess, and a much smaller portion of land is covered with particles.
Dustless Blasting allows for no dust plume, mass spreading of particles or ignitable sparks. Due to the water mixed with abrasive, much of it falls to the fall, allowing you to blast on broader sites and environments.
You can even do so if others work somewhat closely as the dust will not spread to them. Another benefit worth mentioning is that you will save money on clean-up costs due to dust containment.
Dustless Blasting is 100% safe in comparison to traditional sandblasting. Often with sandblasting, you need to wear a full blast suit to prevent inhaling toxic dust plume and protection from getting any particles in your eyes. However, with Dustless, you do not need to do so, making it easier to see and move around during use. More accessibility and visibility also reduces accidents happening on site.
You also need not do so much maintenance for Dustless Blasting methods. In the blast tank, the water is a natural lubricant, which, in turn, causes minor wear on nozzles, valves and hoses. It will mean you spend a whole lot less time repairing or paying for replacements for parts. If you require replacements, you can buy these online for shipping. Your compressor is much like any engine. In terms of maintenance and efficiency, you must ensure that it receives routine oil and filter changes.
Dustless Blasting is environmentally friendly, as it is easy to clean and contain and does not produce harmful ignitable sparks. The dust particles cannot spread far enough into the atmosphere to affect the earth, animals or people.
It is the ideal tool perfect for working on live pipelines or offshore rigs, as they may continue working because it cannot disturb them and doesn't put anybody at risk.
Combining water and abrasive makes for a heavier mass and way more force in the blasting process. More force and mass allow minor media to produce and work much more efficiently than a traditional sandblasting device. In turn, this will speed up your production time and also help cut consumable costs.
Dustless Blasting is excellent for cleaning surfaces. Not only does it strip away old paint or rusting on vehicles, but you may also use it for cleaning the surface of the car or vehicle you are blasting. Doing so frees it from any contaminants or soluble salts; the water prevents flash rust.
Adding a rust inhibitor to the water also leaves a freshly stripped surface ready to paint for around 72 hours. You can also use the indicator to rinse after the blasting is complete. It makes it a fantastic method of colouring stripping for many in the automotive restoration industry.
Water allows the abrasive to move through the pot, hose and nozzles of the device due to the lubrication. The lubrication reduces the amount of heat that transfers onto surfaces. It is also valuable for reducing wear and tear on your blasting equipment so that you can move from one job to the next with your tools.
Dustless blasting has various applications and uses. You may use the dustless blasting method or process on a wide variety of surface types such as concrete, metal, brick, wood, and many more. It's also an excellent process for any company or industry, for example, automotive, industrial purposes, residential sites, marine, refinery and more.
The possibilities are endless with this machinery. Many vehicles used on construction sites can get dirty, receive paint scratches or get rusty, so this is an excellent service or machine to invest in to keep vehicles and blasting equipment in tip-top condition.
During the blasting process, debris is caught up with the water and thus hits the floor or stays contained in the device. The containment means that with Dustless Blasting, you may clean your surroundings much faster and quicker.
The lack of dust plume implies a lack of toxic chemicals or harsh airborne dust that could affect the atmosphere, people or animals. It's ideal for places where there are significant or strict environmental rules and regulations. Most recommend that you use 40/70 recycled bottle glass as an abrasive. Doing so is highly eco-friendly, chemically inert and contains less than 1% free silica.
Dustless Blasting is ideal for blasting all kinds of surfaces and types of metal. The absence of friction, heat pressure or warping makes it perfect for these surfaces as it is the only blasting process that won't damage the medium worked on.
The use of water in the blasting process assists it in keeping the surface around 10 degrees or so colder than the air temperature. The cool air helps to eliminate any heat on the surface generated by friction. The lack of surface heat makes for no warping of your car or vehicle.
Do you require blast cleaning in London or throughout the UK? Contact us on our phone number or via email for further information or advice. If you are interested in a dustless blasting service, RM Specialist Blast Cleaning is always happy to help and assist you.
We can offer high-quality training that may only take around 5 or so minutes. We have professionals on standby so that you can happily stop by and demo our machines at any hours of the day.